'Equestrian Community' of 51 Homes Proposed Near Stables in Clarence
By Nancy A. Fisher - The Buffalo News
Dr. Greg Daniel has proposed building an "equestrian community" of 51 upscale single-family homes adjacent to his home and horse stables on Newhouse Road in Clarence. (Sharon Cantillon/Buffalo News)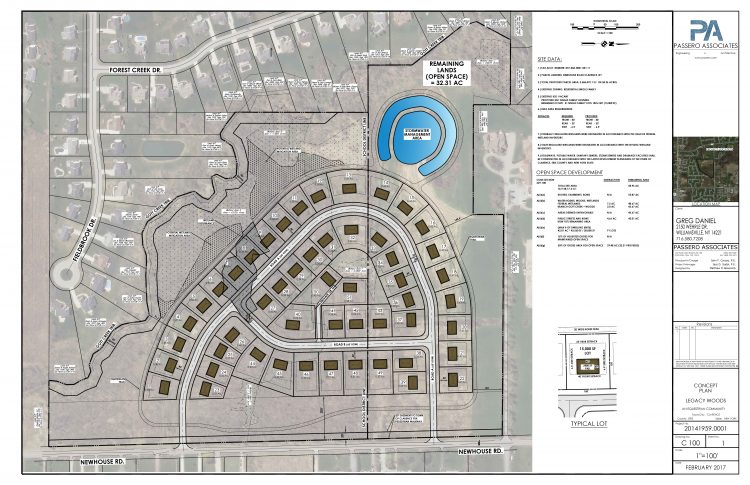 A horse farm and riding trails will be the centerpiece for a proposed 59-acre "equestrian subdivision" dubbed Legacy Woods in Clarence.
Dr. Greg Daniel, who founded a chain of urgent care centers, wants to develop a subdivision of 51 upscale single-family homes off Newhouse Road, which will be located next to his home and his Legacy Equestrian Center, a 40-acre farm with stalls to accommodate 40 horses at 5940 Newhouse Road.
"It's proposed as an equestrian community. That's the unique nature of it," said Jonathan Bleuer, assistant director of community development for the Town of Clarence.
Daniel "has trails running all through the development," Bleuer said.
The Clarence Town Board reviewed the project and forwarded it to the Planning Board for its consideration. The project will be presented at the Planning Board meeting at 7 p.m. March 29 in Clarence Town Hall, 1 Town Place.
Daniel purchased the large tract next to his property and has plans for 51 homes there, according to plans presented to the Clarence Town Board. The two-story homes will be built on lots that are slightly larger than half an acre.
The price of the homes has not been released, but will likely be in the range of $500,000 to $700,000, Bleuer said.
In 2007, Daniel, an emergency room doctor who is retired from medical practice, founded WNY Immediate Care, the first local chain of urgent care centers. He sold the chain in 2012 and opened the equestrian center. He owns a geothermal mansion, which supplies its own energy to heat and cool the house. Solar panels on the horse barn's roof supply electricity to run earth-warmed water through the pipes in every floor.
Daniel said that his plans for each of the 51 homes include solar panels and geothermal wells so they are powered by renewable energy and are energy efficient.
"It will be an all-green community," Daniel said.
He said he hopes to have roads and street lighting for the new subdivision built by the end of this year.
Bleuer said the location next to a stable and riding center will be part of the design for the subdivision.
The historic barn was recently renovated and includes a lighted indoor riding area with rubber footing, a heated viewing lounge and restrooms, according to the Legacy Equestrian Center website. Located outside it is a sand area with jump course and viewing stand plus acreage maintained for leisure riding.
The horse farm was previously known as CP Graham Stables.